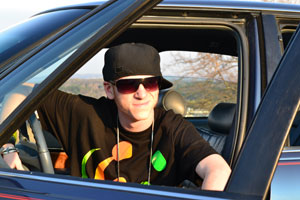 Get to Know Me
Aaron Moon was born in Saginaw, Michigan but spent most of his life in Traverse City, MI. Aaron is blessed to have accepted Jesus as his savior early on in life and continues to foster that relationship with Jesus as Lord. Currently Aaron is living in Rankin, Michigan with wife, dog, 2 cats and 2 rats.
Aaron became interested in rap and hip-hop as he entered his teens. Not caring to filter, he listened to everything, but as he grew he felt conviction on the negative influences and began to filter what he allowed to enter his mind. Around the same time Aaron started writing his own music and discovering more faith based rappers like Lecrae, Flame, and The Cross Movement. It wasn't long before this calling became his ministry and he dedicated his music to glorifying God. With this new focus Aaron wrote his first complete hip-hop song when he was fifteen. His first album Truth was completed at sixteen and his second album, The Movement was completed at nineteen years of age. He went on to complete his third album, yet first professional, Re:Mastered, at twenty-three years old.
From a young age Aaron has been involved with music starting with piano lessons. He has spent a generous portion of his life playing the keyboard for church worship services, and has also filled in on drumming with no formal training in percussion. He also had a hobby of making digital beats and after years of practice began producing for his own albums. Although Aaron has had mostly hands on experience in songwriting and music production, he has had a small amount of formal training in studio sound engineering as well.
In addition to his independent work, Aaron had also collaborated with singer and songwriter Noel Henning founding a band that was known as Fallwell. Fallwell created a unique and engaging blend of genres from acoustic and punk rock, to hip-hop and pop with a focus on ministry.
Through Aaron's music he has a passion to see people drawn to Jesus Christ as Lord of their life and to encourage fellow Christians in the faith. This includes standing strong in the face of temptation, having faith in God during trials, and encouraging a desire to learn more about God.